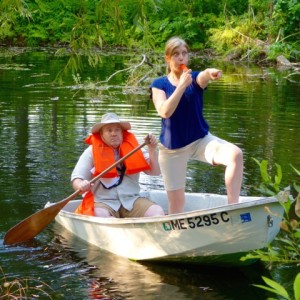 Celebration Barn Presents a Comic Summer Camp Reunion Show
 Celebration Barn Theater in South Paris presents The Last Hurrah at Camp Maine, a comic summer camp reunion from NY Writer and Director Jeff Wirth, on August 22, 28 & 29 at 8 PM.
In this immersive adventure Celebration Barn's property plays the role of the oldest summer camp in the state as the story unfolds all over the camp and all around the audience.
In Camp Maine, the audience will move around Celebration Barn's 11 acre property as we invite them to imagine that they all have a personal history with this fictional summer camp. Wether you are are an audience member who prefers to sit back and watch or one who wants to get close to the action, it's designed to be fun for everyone.
The professional cast includes Celebration Barn veterans Michael Miclon, Fred Garbo and Amanda Huotari, as well as actors from as far away as Washington state and Colombia.