Mission
Celebration Barn is an international residential center for theater training and creation. The Barn's mission is to inspire creativity and community by harnessing the power of live performance.
About the Barn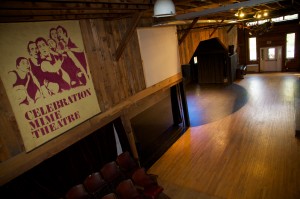 Celebration Barn is an immersive physical theater center that draws artists from around the world who are seeking to train and create their own works. The Barn's mission is to inspire creativity and community by harnessing the power of live performance.
This beautiful, restored horse barn in the woods of Maine provides an inspiring natural setting. Celeb`ration Barn's 45-year history fuels a super-charged atmosphere that encourages artists to play at their creative edge, nurtured and provoked by a community of collaborators, and launch performance in new directions.
Workshops attract today's most sought-after physical theater teachers and performers. Our workshops last from 6-12 hours a day, depending on the instructor. Intimate class sizes ensure that each student receives personal attention during their stay.
Residencies offer producing artists valuable time, space, and a supportive community to both incubate new ideas and polish shows in various stages of development.
Performances bring world-class touring artists and local audiences together to share one-of-a-kind performances in this charming and intimate venue.
---
 Barn History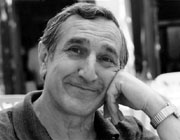 Tony Montanaro
Celebration Barn theater was found in 1972 by Tony Montanaro, who developed it into a world-renowned theater school for mime, improvisation, storytelling, and other performing arts… (more info…)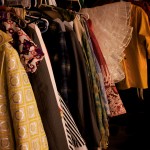 Workshops
Celebration Barn offers a full season of intensive, immersive and collaborative workshops with world-class teachers. Working here, in the stunning foothills of the western Maine mountains,  there is a wonderful freedom away from the distractions of everyday life. (more info…)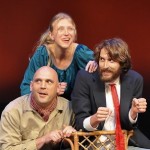 Shows at the Barn
Public performances are given on Saturday nights from June into October, featuring faculty, students, and special guest artists. (more info…)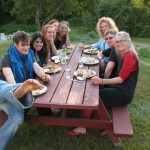 Internships
Celebration Barn internships provide opportunities for current students and early-career professionals to gain hands-experience in theater creation, production and performance. The Barn is an incredible place to work and play hard all summer. (more info…)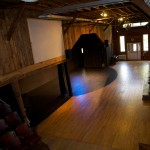 Rentals
Whether you are a performing artist looking for a place to work privately or with a director, Celebration Barn offers quiet live/work space available for short (weekend) and long-term rental. For companies, Celebration Barn Theater offers a perfect rustic retreat. (more info…)
---
BOARD OF DIRECTORS
Executive Artistic Director – Amanda Huotari
Managing Director – Ian Bannon
Board Members – Pat Daniels, Fred Garbo, Kelsey Goldsmith, Fritz Grobe, Rod Kimball, Dennis Lajoie, Maya McCoy, Davis Robinson, and Brenna Thomas
---
2016 SUPPORTERS
A heart felt thank you to all of our 45th season supporters.
It's this outstanding community that keeps the Barn going and growing!
Encore Performers ($5,000+)
Gwendolen Elwell Flanagan Foundation
Maine Community Foundation
Nowlin Family Foundation
Show Stoppers ($1,000+)
Friends of the Barn
Elizabeth Grobe
Fritz Grobe
Carol Huotari
Brady Lea
Ethel M. Looram Foundation
Aaron Tucker
Frank & Cheryl Shaskan
Headliners ($500+)
Fred Garbo
William & Marjorie Medd
Davis Robinson
The Incredible Ensemble
Coffee By Design
Connie Allen
Daniel Allen
Amazon Smile
Marlene Bannon
Ian Bannon
Jan Barker
James Barnes
Sydney Bayer
Gene & Ellen Benner
Mary Bloch
Dorothy Bowyer
John Brooks
Joanna Brown
Mary Ann Brown
Monica Callan
Ray Caspio
Sylvia Chaplain
Karen Chapman
Joan Churchill
Films by Huey
Danis Collett
Merry Conway
Dick Cuyler
Jo & Paul Cyr-Mutty
Al & Pat Daniels
Jonathan Daniszewski
Center for Movement Theatre
Matthew Ellis
Kerry Elson
Alex Feldman
Monica Fischbach
Joan Frost
Peter Gabb
Judy Gailen
Ellen Gawler
Sandy & Leo Geddry
Bill & Jane Gibson
Pauline Gibson
Matthew Glass
Jack Golden
Kelsey Goldsmith
Toni Hamlin
Amanda Huotari
Carol Huotari
Tom Inglin
Nicholas Inglin
Sara Ingram
Deborah Irons
Janet & Mike Iveson
Susan Jacoby
Sally Jones
Roderick Kimball
Dennis Lajoie
Abbe Levin
Deborah Litchfield
Betty Lowe
Marta MacRostie
Wendy & Jack Newmeyer/Maine Balsam Fir
Brent & Maya McCoy
Charles McGillicuddy
Blainor McGough
Nancy Mercer
Kavi Montanaro
Karen Montanaro
Richard & Martha Moore
George & Jacqueline Morton
Edward Mosher II & Carol Altshuler
Jeffrey Newsom
Holly Noble
Leslie Noble
Oscar Pizza LLC
Wendy & Dick Penley
Margaret Perham
Julie Perkins
Joseph Quinn
Denise Reehl
Sue Ellen Richardson & Douglas Topper
Bonnie Ripley
Antonio Rocha
Nick & Betsy Salvati
Joan Sand
David & Cathy Sanderson
Nicholas Schroeder
Tillmann Schütz
Barbara Schuyler
Mike Seliger
Claire Sessions
Maria Shaplin
Aimee & Andy Simons
Gabrielle Sinclair
Jean Smart
Robin Smith
Kimberly Starling
David Taft
Alice Trexler
Clare Vadeboncoeur
Ryan Walker
Thom Wall
Nathaniel Warren-White
Stephen Legawiec & Dana Wieluns Legawiec
Bess Welden
Berwyn & Delores Wetter
Therapeutic Massage Janet Willie LMT LPN
Kay Zurcher