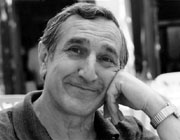 Tony Montanaro founded Celebration Barn in 1972 and developed it into a world-renowned theater school for mime, improvisation, storytelling, and other performing arts.
Born in Paulsboro, New Jersey on September 10, 1927, Tony Montanaro earned a theater degree from Columbia University and began performing stock theater with actors such as Jason Robards and Jackie Cooper. After seeing Marcel Marceau's historic 1956 performance at New York's Phoenix Theatre, Montanaro flew to Paris to study with Marceau and with Marceau's teacher, Etienne Decroux.
Montanaro had a long career of rave-review performances in Europe and the United States. He designed and hosted the award-winning CBS-TV children's show Pretendo.
A PBS "True North" Special on Celebration Barn (7 minutes)

In the years before his death in 2002, Montanaro continued to teach and direct at Celebration Barn and toured widely with his wife, Karen Hurll Montanaro. In 1995, the Montanaros authored Mime Spoken Here: The Performer's Portable Workshop, a guide to the craft of mime, character work, and improvisation.
In 2006, Theatre & Inspiration, a film by Huey, Leland Faulkner, and Richard Searls was released on DVD. The "must have" film of Tony's life, career and enormous contributions to theater and mime can be ordered through www.filmsbyhuey.com.
The Documentary on the Life of Tony Montanaro: Theatre & Inspiration

In 1991 and 1992, Tony created two Mime Spoken Here instructional video tapes containing approximately four hours of instruction. These tapes are available as a complete course in a 2 disk DVD set: Volume One – Illusions and Exercises and Volume Two – Spontaneity and Invention. Here is a sample of Tony teaching his most famous mime illusion, "The Wall".
Tony Instructional Mime DVDs • Mime Spoken Here