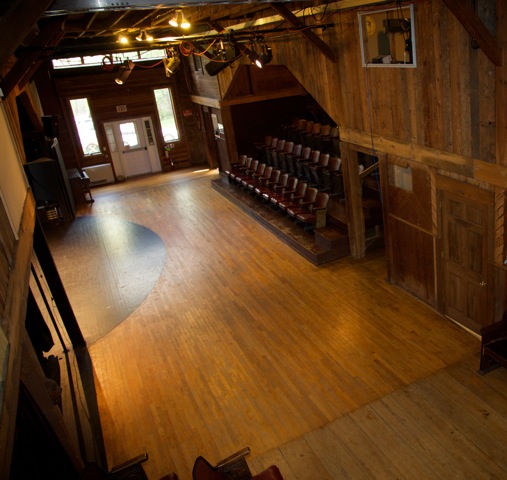 Show Incubation Residency – Week 2
August 27

-

September 2

Celebration Barn is an incubator for physical theater with an emphasis on collaborative process. Residencies provide artists a retreat from daily demands, allowing them to fully immerse themselves in creating and refining work. Located in the beautiful countryside of western Maine, Celebration Barn's 45-year history fuels a super-charged atmosphere that encourages artists to play on their creative edge, to be nurtured and challenged by collaborators, and to launch performance in new directions.
Thanks to generous support from the Nowlin Family Foundation, the program, including our meal plan, is available without charge to the participants!
Residency dates: There will be two Show Incubation Residencies, each of which will be one week long. Artists will only be accepted for a single week.
July 30 – August 5, 2018

:
Arrive anytime
on Monday, July 30
. We will enjoy dinner as a group at
6:30 PM
. Public Sharing TBD. Departure is on
Sunday, August 5 by
no later than
10 AM
.
August 27 – September 2, 2018

:
Arrive anytime
on Monday, August 27
. We will enjoy dinner as a group at
6:30 PM
. Public Sharing TBD. Departure is on
Sunday, September 2 by
no later than
10 AM
.
Who is eligible: This residency is intended to support individual artists (age 18+ and at any stage of their career) working with a director/production team and ensembles (with up to 8 members) who are creating work specifically to tour. Artists who are working alone on solo projects are not eligible. Accommodations are only provided for those who are creative participants in the project. Up to 4 creative teams/ensembles may be in residency at one time, depending on the needs of applicants.
Expenses paid by artists: Travel, Breakfast, and Bedding; $50 fee/participant
Resources provided by Celebration Barn:
Private, on-site accommodations in single-occupancy or double-occupancy rooms (for participating artists, ages 18+ only; singles as available)
Delicious, healthy lunches and dinners, always with a vegetarian option
A dedicated rehearsal studio
A shared, well-equipped kitchen for breakfast preparation (with industrial fridge, two ovens, two sinks and lots of prep space) and bathrooms
Shared use of 20' x 25' stage with 17' ceiling height
Opportunity to share work and process with other artists, as well as facilitated feedback to help advance your work
Limited tech support. Be sure to include specific technical requirements in application.
Wi-fi access in the theater
11 acres of lush, private fields and forests with amenities including a fire pit, horseshoe pit, and laying hens
The beautiful historic Paris Hill neighborhood within walking distance
Local amenities include a large grocery store, public lake access, food co-op, fine dining, and a fantastic cafe, all within a 15-minute drive in near by villages of South Paris, Norway, and Oxford.
One hour from the closest major airport in Portland (PWM). Feel free to share your travel itinerary with us to see if any ride-share opportunities may be available. Otherwise, we recommend Oxford Hills Taxi (207) 743-7963 for transportation between the airport or bus station and Celebration Barn.
Expectations of the artist:
Present informal work-in-progress showings with fellow resident artists for facilitated feedback on Wednesday and Friday evenings
Participate in an informal, public work-in-progress showing on Saturday afternoon
Join resident artists daily for lunch and dinner in the theater
Help maintain a clean live-work space
Provide written report describing how this residency served to advance work within 2 weeks of the end of the residency
Agreement to provide Celebration Barn visibility in perpetuity on artist's website, in program for final production, or in other ways (to be agreed on prior to start of residency)
How to apply:
Fill out the following online application, including all supplemental materials, by May 1, 2018. Decisions will be announced on May 11, 2018.
Please note that incomplete applications—especially those submitted without a work sample—will not be considered.
For answers to questions regarding the application and residencies, please email Ian@CelebrationBarn.com or call (207) 743-8452.