Advanced Eccentric Performing
with Avner Eisenberg
July 3, 2017

-

July 8, 2017

Advanced Eccentric Performing is a continuation of Introduction to Eccentric Performing.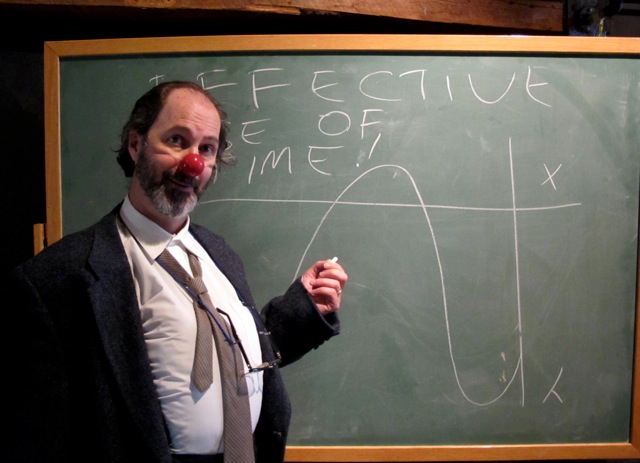 This advanced week is open to those who have taken a workshop with Avner or Julie in Clowning or Eccentric Performance, including those who take the Intro week, and would like to deepen their understanding and practice of the Eccentric Principles. There will be daily evening presentations at which students are encouraged to present their own act or show, or work they have developed during the first week. Notes, critiques, and direction will be offered by Avner. Private directing sessions can be arranged.
Avner and his wife, JULIE GOELL have taught Eccentric Performing at the Barn for 25 years.
Check out Julie's book, Life in a Clown House: A Manual and a Memoir at www.clown-house.com.
---
To apply for the Julie Goell Fund for Eccentric Women Scholarship:
Fill out the online registration form. Submit it along with a headshot, resume, and a letter of introduction that speaks to your motivation for taking this workshop and expresses how this scholarship is helping you overcome financial obstacles to attend. Applications must submitted electronically. Additional materials may be submitted to info@CelebrationBarn.com. Applicants must be women at least 18 years of age.
Find out more about The Julie Goell Fund for Eccentric Women.
---
| | |
| --- | --- |
| | AVNER EISENBERG was described by New York Magazine as "a clown for the thinking man." His show Avner the Eccentric was a hit of the 1984 - 1985 Broadway season. He appeared again on Broadway in Ghetto and The Comedy of Errors. Avner is widely known for his scene-stealing portrayal... read more | visit Avner Eisenberg's website |
---
Register by May 1st and receive a $50 discount. A 10% discount is also available to individuals registering for more than one workshop or for group registrations from the same immediate family or performing ensemble. See the registration form for details.
NOTE: There are no earlybird, ensemble, or group discounts for retreats.
Arrival: between 3 PM and 6 PM on Monday
Departure: before 10 AM on Sunday