Bouffon
with Aitor Basauri
June 4

-

June 9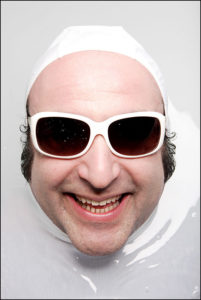 A love for the grotesque, the forbidden, bad taste, irony, parody, and all things deformed— these are the toys and tools of the bouffon – the outcast who lives to provoke the audience without losing the love of the audience.
In this rich theatrical world, the character lives to provoke the audience without losing their love. The stakes so high that if they lose the love of the audience, the bouffon will get KILLED.
In this workshop we will play games and exercises that will help every performer to find that place where their personal Bouffon is – a place of risk, a place of danger, a place of daring. In contrast to the Clown, the key to the Bouffon is discovering the intelligence of the performer in parodying, their cleverness in simultaneously daring to mock and provoke the audience, whilst staying alive, a balancing act which requires supreme sensitivity.
Aitor Basauri is an internationally recognized teacher of clown and physical comedy. Amongst the numerous directing credits to his name, he is most recently co-writer and director of the renowned bouffon Red Bastard's latest show Lie With Me.
Horrible! Despicable. Self Indulgent. But enough about me… Aitor Basauri is a fantastic director. He injected humor, depth and theatricality to my work as a bouffon. Highly recommended. But don't tell him I said that.

-Eric Davis (Red Bastard)
---
| | |
| --- | --- |
| | AITOR BASAURI is one of the most sought after and leading teachers of clown and physical comedy in the world. He regularly runs Spymonkey masterclasses in London, Brighton and New York, is a staff tutor at Cirque du Soleil Las Vegas, and teaches at Ecole Phillipe Gaulier... read more | Visit Spymonkey website |
---
Register by May 1st and receive a $50 discount. A 10% discount is also available to individuals registering for more than one workshop or for group registrations from the same immediate family or performing ensemble. See the registration form for details.
NOTE: There are no earlybird, ensemble, or group discounts for retreats.
Arrival: between 3 PM and 6 PM on Monday
Departure: before 10 AM on Sunday