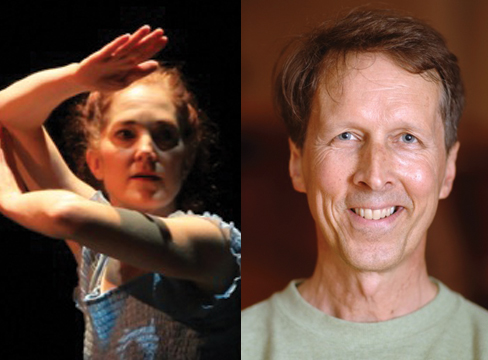 Devising Intensive
July 13, 2015

-

July 25, 2015

Karen Montanaro, Davis Robinson & Guests! (11 days)

This workshop is for directors, teachers, and performers interested in devising their own theater pieces, or in teaching others how to devise. Learn several methods for imaginative theater problem-solving by spending two intensive weeks devising solo, duet, and ensemble pieces in the woods of western Maine. Daily classes in movement dynamics, improvisation, partnering, premise work, graphics, and scripting will expand your expressive range. Afternoon master classes with world-class artists will provide you with a range of approaches. Evenings are an opportunity to perform work inspired by daily assignments for critique and review.

Each day, new challenges increase the levels of risk and collaboration. Material is drawn from the natural world, music, literature, current events, films, and daily life. People coming to the workshop with existing material will be encouraged to push their work in new directions, to test their strength and resilience with new technical skills, and to open up new avenues of exploration in an intensive and supportive atmosphere of creative joy and mutual discovery.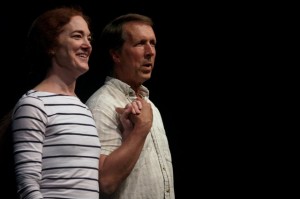 Devising is one of the most exciting recent developments in theater training. Universally, college programs and professional theaters are recognizing the value of actor-generated work.
Shows like The 39 Steps, Peter and the Starcatcher, Sleep No More, and War Horse all make use of the imaginative design choices and innovative physical staging that are hallmarks of devised theater and actor-generated material. For decades, Celebration Barn has been training teachers and performers in the nuts and bolts of movement imagery, improvisation, and structures for the creation of original material.
This class is open to performers of all experience levels.
| | |
| --- | --- |
| | DAVIS ROBINSON is a professor of theater at Bowdoin College, and former head of actor training at Emerson College in Boston. His book The Physical Comedy Handbook was published by Heineman Press in 1999. He is the artistic director of the Beau Jest Moving Theater, an award-winning company based in Boston that has been devising original work for over twenty years.  Davis teaches acting, directing, movement, and comedy in colleges, repertory theaters, Motionfest, the Big Apple Circus Clown Care unit, and right here in Maine each summer… read more | visit Beau Jest website |
| | |
| | KAREN MONTANARO is a world-renowned dancer and mime artist, an award-winning choreographer, and the innovator of "mimedance" (the fusion of two classical art forms). Karen danced professionally with the Ohio Ballet and the Darmstadt Opera Ballet in Germany before meeting master mime and Celebration Barn's founder, Tony Montanaro. For more than a decade, Karen and Tony toured and taught internationally… read more | visit Karen Montanaro's website |
Teaching artists include:
Fritz Grobe, internet sensation from Eepybird.com, will teach you how to dig deeper into your work, building from 1 to 10 to 100.
Christine Haines, master teacher of the The Alexander Technique, will provide tools to relieve unnecessary tension and find ease in movement on stage.
Karen Montanaro, internationally acclaimed dancer and mime artist, will help you expand the expressive range of your movement and act "on impulse."
Davis Robinson, author of The Physical Comedy Handbook, will teach you how to create dynamic theater with honesty and imagination.
Bronwyn Sims, a circus-artist and choreographer, will offer use partner acrobatic techniques to help you build dynamic physical images.
Register by May 1st and receive a $50 discount. A 10% discount is also available to individuals registering for more than one workshop or for group registrations from the same immediate family or performing ensemble. See the registration form for details.
Arrival: between 3 PM and 6 PM on Monday
Departure: before 10 AM on Sunday