Passions & Tragic Space
with Dody DiSanto
July 23

-

July 28

~ human passions run counter to the will of the gods leading heroes to their deaths ~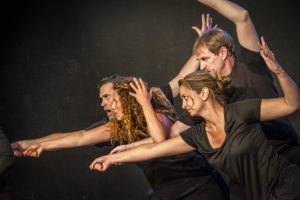 The workshop proposes an in-depth encounter into freeing the richness of resources rooted in tragic texts. Exploring the driving forces behind the human passions, we will probe how they move, bringing external structure to these internal states. Working both individually and collectively, we will search out the body of words, breathe life into the passions they express, and create an environment in which they are played out.
The great works of sorrow and suffering give forth to movement and expression through the expansion and contraction of collaborative space. A coherent unit, the theatrical chorus operates as a living cell being pushed and pulled by the forces of our own destiny. Seeking gestures to match the heightened circumstances of the text, we grasp how our passions can be extrapolated spatially as well as cradled by the ensemble.
The week will include some hands-on exploration with materials in order to arrive at symbolic condensation of the passions, along with continuous physical preparation to support the notions of balance, imbalance and fixed points. Core exercises will cover spatial architecture of the chorus, dynamics of the text, and plasticity of materials.
This training provides tools of creativity for performers of all stripes by taking the creative act into a deeper dimension that we all carry within us, one that allows us to express what is not visible. Intended for the curious, eager and committed artist looking to strengthen and nourish their craft.
---
| | |
| --- | --- |
| | Dody DiSanto trained in Paris and is an esteemed teaching protégé of the late Jacques Lecoq, whose teachings she carries forward at the Center for Movement Theatre in Washington, DC. She is also on the faculties of The Shakespeare Theatre's Academy for Classical Acting at The George Washington University... read more |
---
Register by May 1st and receive a $50 discount. A 10% discount is also available to individuals registering for more than one workshop or for group registrations from the same immediate family or performing ensemble. See the registration form for details.
NOTE: There are no earlybird, ensemble, or group discounts for retreats.
Arrival: between 3 PM and 6 PM on Monday
Departure: before 10 AM on Sunday