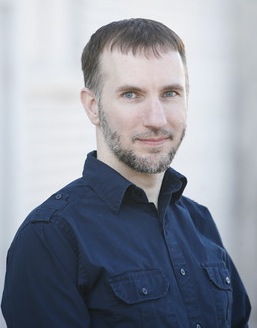 For the first twenty years of his life, Fritz wanted to be either a designer for Lego or a mathematician. Then came juggling. While attending Yale University he founded the Yale Anti-Gravity Society, the university's juggling club. After leaving Yale he turned to Celebration Barn Theater's renowned performing arts school where he studied physical theater with Avner Eisenberg, Julie Goell, Fred Garbo and Tony Montanaro.
In 1993, he won the International Jugglers Festival individual championships, the first of his five gold medals at the festival. He also briefly held a world record for juggling way too many objects.
Fritz was artistic director of the juggling and dance ensemble blink from 1995 to 2000, which won both the Dance Portland Professional Choreography Showcase and the International Jugglers Festival Team Championships in Las Vegas. blink toured theatrical venues for five years, including performances in London, Edinburgh, Montreal, Chicago, Minneapolis, and Los Angeles.
From 2000 – 2001, Fritz served as the Managing Director of Celebration Barn Theater before creating two new touring productions: Bride and Broom: A Story of Marriage & Messes with Meghan Strell, directed by Avner Eisenberg, and The Odd Company a touring comedy & juggling production with Michael Miclon and Amanda Huotari.
Since 2012, Fritz has appeared in a leading role and as the featured solo clown in Birdhouse Factory, a theatrical circus created by a group of former Cirque du Soleil performers. Birdhouse Factory has toured throughout the United States and Mexico.
Fritz lives in the small town of Buckfield, Maine, where he helps run the Oddfellow Theater. He is a writer and performer in the Oddfellow Theater's Early Evening Show, a monthly spoof of a late night talk show that has been a sell-out phenomenon since 1998. Most recently he co-wrote and appeared as Bob Cratchit in their production of Bah Hoonchbach: A Very Odd Christmas Carol.
Of course, Fritz also runs Eepybird (known for the internet-viral Diet Coke and Mentos Experiments) in all his copious free time!