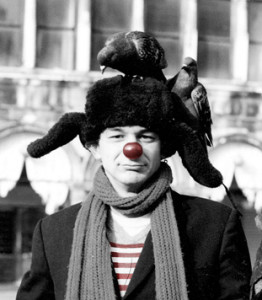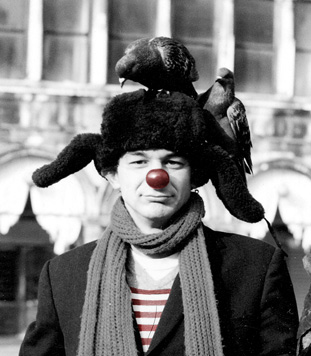 Artist, Natural Scientist and Pedagogue, Giovanni Fusetti is a multi-disciplinary fool.
He encountered pedagogy and social theatre while receiving his MA in Agriculture and Ecology at the University of Padova (1985-1989). This encounter led to a pedagogic and artistic search that has been unfolding for over 25 years.
After attending a variety of workshops and projects involving Mime, Puppets, Street Theatre, Theatre of the Oppressed and Clown, he trained at the École International de Théâtre Jacques Lecoq (1992-1994), where he subsequently returned to follow the pedagogic training and the L.E.M. (Laboratoire d'Etude du Mouvement), after which he was invited by Jacques Lecoq to teach improvisation. While in Paris, Giovanni also trained in Gestalt at the Ecole Parisienne de Gestalt(1992-1999).
After the death of Jacques Lecoq in 1999, he returned to Padua to co-found Kiklos Teatro, alongside Paola Coletto. This was an international theatre center devoted to theatre creation and pedagogy. Here Giovanni directed the Scuola Internazionale di Creazione KIKLOS for five years, developing the vision of a school rooted in tradition, and free to create and re-create new poetic paths.
After the end of the Kiklos experience in 2004, Giovanni Fusetti continued to work around the globe as a teacher and director, during an artistic journey that led him to work with leading theatre companies, universities, schools and training centers. He has been invited to teach and lecture at numerous places including: LISPA (London International School of Performing Arts), Dell'Arte School of Physical Theatre (Blue Lake, California), Accademia Teatrale Veneta (Venice), The University of London, Rosegarden Theatre House (Norway), Naropa University (Boulder, Colorado), Centre Generation Tao (Paris), Princeton University, University of Auckland, Auckland Unitec, Toi Wakhaari / New Zealand Drama School and theBoulder Circus Center (USA), where he has been teaching a summer intensive training on Red Nose clown over the last 10 years.
After these traveling years, the urge to reopening a long-term training process led Giovanni to settle in Florence, Tuscany in 2010, becoming the Founding Director of HELIKOS International School of Theatre Creation. At Helikos Giovanni is the pedagogical director and the core teacher in the professional training program, and he teaches Movement Analysis, Improvisation, Theatre Creation and the PAPAS atelier (Personal Awareness Process in Altered States).
As a performer, Giovanni has explored movement-based theatre creation with various companies including Circo Crappo, Teatro Osvaldo, The Clod Ensemble(London), Tre Magi Teatro, Il Triangelo, and Larven Teatro. He has worked as movement coach and assistant director internationally, including for the Commedia dell'Arte company Pantakin da Venezia, and has collaborated with Pig Iron Theatre Company in Phildelphia (US) as trainer and devising consultant. He has directed and co-written clown shows with former students and alumni.