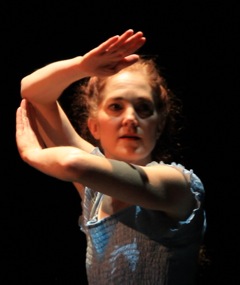 Karen is a world-renowned dancer and mime artist, an award-winning choreographer, and the innovator of "mimedance" (the fusion of two classical art forms). Karen danced professionally with the Ohio Ballet and the Darmstadt Opera Ballet in Germany before meeting master mime and Celebration Barn's founder, Tony Montanaro. For more than a decade, Karen and Tony toured and taught internationally.
She currently tours the world with her one-woman show entitled Tanzspiel. Karen is a teaching artist and offers residencies in movement, mime and dance in public and private schools throughout the United States.
Karen was recently awarded the 2008 Individual Artist Fellowship grant from the Maine Arts Commission. Donna McNeil, director of the MAC, writes: "Our distinguished panel of judges was impressed with Karen's phenomenal technique and control but most importantly they recognized that Karen has fused her prodigious skill in both mime and dance into a new art form, using the body as a descriptive tool — painterly, narrative and lyrical."
Karen was also the "word-smith" for Tony Montanaro's book Mime Spoken Here, published in 1995.
Email Karen Montanaro
Visit Karen Montanaro's website
Get info on Tony & Karen's book and videos.