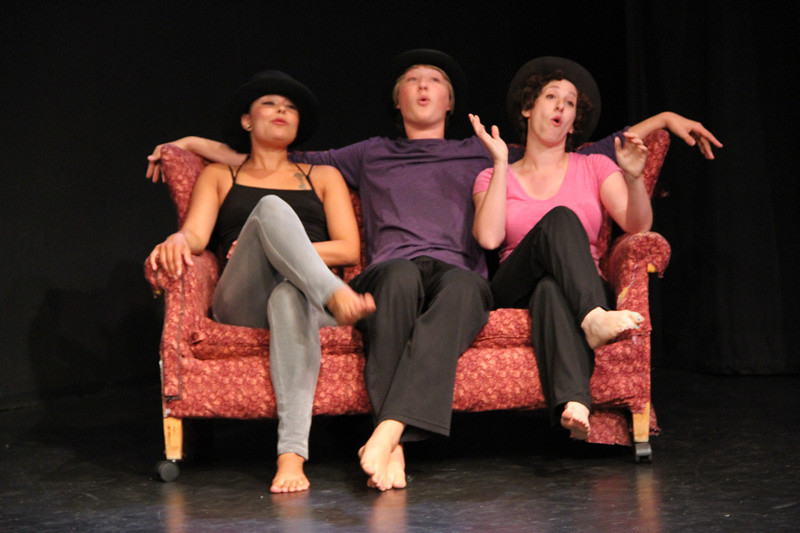 Celebration Barn internships provide opportunities for current students and early-career professionals to gain hands-on experience in theater creation, production, and performance. The Barn is an incredible place to work and play hard all summer. The information below will give you a good idea of what to expect. Feel free to email or call Ian if you have any questions about the internship or the online application.

Dates: June 1 – September 2, 2018
Rolling Application Deadline: April 1, 2018*

*a decision may be made before this date
Compensation:
These positions are not paid. However, these positions offer the following perks:
• Participation in either Improvisational, Immersive & Interactive Performance or Intro to Eccentric Performance: August 20-25 (tuition valued at $550-700)
• Housing in a double-occupancy dorm room (14 weeks valued at $3,500)
• The meal plan, which includes lunch and dinner on all workshop class days from June 4-September 1 (12 weeks, valued at $1,920; You will be responsible for providing your own breakfasts and meals on non-class days.)
• Networking opportunities with over 200 students and theater artists from around the world.
• Access to shared rehearsal spaces. As an intern, you will have plenty of time in the Barn to work on your own material, and you have the resources to set up times to show your pieces to the community for feedback.
Eligibility:
To be eligible, applicants must:
• Be at least 18 years old
• Be able to commit for the summer season
• Be willing to live at the Barn or live within commuting distance
• Possess strong communications skills and have the ability to work both independently and in collaboration with others
• Submit a thoughtfully completed application
Considerations may be made for an early departure beginning August 19—if required for school schedule. Strong preference is given to candidates who are available for the entire summer and able to bring their own transportation.
To Apply:
• The Online Application is to be submitted, including your résumé and contact information for two references.
• We have an early acceptance application deadline of April 1, however we encourage interns to apply before this date. We accept applications and make decisions on a rolling basis.
Intern Responsibilities:
• Resident Host: As a resident in the barn, our interns host students, faculty, artists, and visiting guests. Responsibilities include helping with new student orientation and being available as a "go-to" person as any special needs arise. Interns will assist in changing over residential housing between guests. We hope you'll help students and teachers to feel comfortable and well taken care of throughout their stay.
• Daily Operations: Helping to keep the space organized, clean and ready for action; assisting with meal preparation, meal clean-ups, and making sure the bathrooms are tidy during the week (professional cleaners come on the weekends). Afternoon projects will be on a need-be basis and may include painting, maintaining the costume shop, and assisting with building projects.
• Property Maintenance: Yard work will include weeding, watering flowers, hauling brush, feeding chickens, etc.
• Show Production: Preparation and production for Saturday night shows includes making sure that the space is ready (may include light cleaning and mopping), offering support to visiting artists during load-in, assisting with lights and sound, helping load-out post-show, and overseeing volunteers.
• Administrative Support: Office work will include research projects, maintaining the mailing list, helping with ticket reservations, and assisting with publicity.
• Support Promotional Events: These include things like assisting with Chamber of Commerce events, visiting school groups, and the Norway Art Festival. We're working on bringing the Barn into the community and we hope that your participation will help strengthen the Barn's presence.
---
"Turns out South Paris, ME is a hub for very skilled, very humble individuals who are deeply involved in the world of clown and physical theater. And the internship program is one of a kind- I was working directly under the theater's artistic/executive director, managing director, and residential manager, and my responsibilities ranged from groundskeeping to designing lights for touring productions. New instructors and students from all over the world came through every week, and we all washed our dishes together. There was no shortage of work to do, but I had a lot of flexibility in my schedule where I could work on my own projects, pick the brains of all the people around me, or just… relax? And have time for myself? And then this all took place in a hundred-year-old barn, in an apple orchard, in rural Maine. It was bonkers and challenging and I think probably the perfect place to be post-graduation."
Haley Gadzik
2016 Summer Intern
"I was surprised that I wrote a show. Here I was the playwright, I was the director, and I was the actor. I was able to do it all and experience it all. Throughout the entire summer, I was able to rehearse, to learn from mistakes, and to keep building on pieces. It was a constant work in progress. I learned to trust myself on stage. Here you are constantly throwing yourself on stage. You're in a wonderful environment to fail and then you're in such a wonderful environment to eventually succeed."
Nellie Ognacevic
Intern 2010, Summer Assistant 2011
---
Online Application: