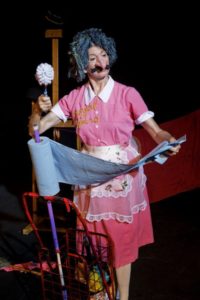 The inimitable Julie Goell passed peacefully in December 2016, at home with her family, at the end of a long battle with a neurodegenerative condition.
Julie was a mentor, friend, and inspiration to thousands of artists around the globe. For 26 years, she taught Eccentric Performing at the Barn alongside her husband and fellow eccentric performer Avner Eisenberg.
"She brought a poetic and musical dimension to her directing and teaching, and encouraged finding of the same so that the work leapt from creative problem solving to beautiful theatre. Our collective family of eccentrics, clowns, and fools mourns today, because we were given so much joy. Thanks for inviting us into your clown house."
-Drew (the Dramatic Fool) Richardson
When Julie's illness led to the end of her touring as a performer in 2010, she continued to create, forming Peaks Island Puppets, writing a
memoir
, and composing poetry by pointing out each individual letter on an alphabet board for friends and family, who transcribed the poems.
"I think that Julie's ongoing gift to us all is the way in which she so full-heartedly and generously encouraged her students to improvise, to embrace the unknown and to open themselves up to the joy of discovering. She was a clown. She was a musician. She was poet. She was a puppeteer. No matter what medium she was working in, she was above all an improviser. She was unbound by form."
-Mandy Huotari, Celebration Barn's Executive Artistic Director
Together with Avner, Celebration Barn Theater is honoring Julie Goell's legacy by establishing The Julie Goell Fund for Eccentric Women, which will support training and professional development for emerging and professional women clowns.
Please use the PayPal button below to donate to fund in Julie's memory:
---
In 2018, the Julie Goell Fund will provide scholarships for the Advanced Eccentric Performing Workshop, June 25-30, 2018.
To apply for a scholarship, fill out the online registration form. Submit it along with a headshot, resume, and a letter of introduction that speaks to your motivation for taking this workshop and expresses how this scholarship is helping you overcome financial obstacles to attend.
Applications must submitted electronically. Additional materials may be submitted to info@CelebrationBarn.com. Applicants must be women at least 18 years of age.
---
We would like to thank the following contributors for honoring Julie's memory:
Goldie Bertone
Katie Birchenough
Jeri Breiner
Emily Carragher
Peet Cooper
Glenna Dumey
Zev Eisenberg
Timothy Furst
Michael Getlan
David Glaser
Fritz Grobe
Jeanne Hayman
Margaret Kelsey
Tessa Marquis
David Marquis
Marguerite Mathews
Gale McNeeley
Barbara Ann Michaels
Kelly Nesbitt
Jane Nichols
Leslie Noble
Cathleen O'Malley
Keith & Linda Pedersen
Joan Radner
Dianne Richerson
Karolyn Rossein
Aimee Silverman & the Raizlabs Team
Jo Tomalin
Susan Webster