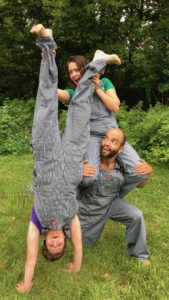 The Barn's hitting the road this summer, touring a brand new show to audiences throughout Western Maine!
A fusion of comedy, physical theater, and vaudeville, Celebration Barn Road Show's On the Go! celebrates creativity and imagination.
Following the performance, both adults and kids are invited to participate in our Theater Play Workshop, with games and fun exercises to bring your imagination to life.
Director Fritz Grobe is a 5-time gold medalist with the International Juggler's Association. He toured nationally with the theatrical circus Birdhouse Factory, and is co-founder of Eepybird.com whose online videos have been viewed over 100 million times.